Interview : JPS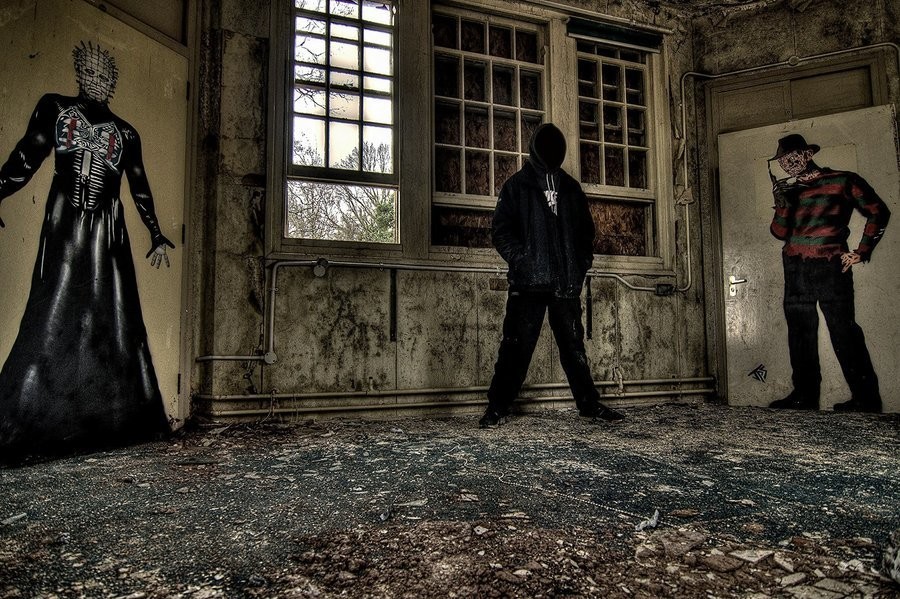 Who are you ? And where are you from ?
I am a nearly reformed street artist who goes by my initials JPS and was born and still live in Weston-Super-Mare U.K.
What are your main influences – art and otherwise ?
My younger influences before I got into street art were M.C Escher, Salvador Dali, Cezanne, DaVinci and Cartoon Art, Later in life I was inspired by Banksy and the more I got into stencil and street art the more I loved it. However I do consider my work very different his as I draw my ideas and inspirations from either things I love or sometimes even bad memories from my past.
You are painting lots of horror at Barrow Gurney Abandoned Mental Hospital, It was instructional ?
Instructional as in permission? I did not have permission to paint at barrow however i knew it was going to be demolished and security there very weak so it was a perfect place to make sure I got my work looking right although they still get painted in a very short amount of time I never had any problems although it's pretty dangerous there.
The abandoned places are a mark for a creation ?
The Settings in which I paint my work is very important to me everything has a place in my eyes.
Your work in Norway was not completely legal, why ?
Because I only had permission on 2 of the walls I hit, the others I basically painted where I liked you just gotta take the gamble sometimes, I did get stopped by norwegian police as I was sticking on the first layer of a stencil but I just played the dumb english guy who thought it was legal in Stavanger as i hadn't got to marking that wall they let me walk with a telling off didn't even take my spraypaint off of me… Norway's great.
Banksy is influenced by you or it is the opposite ?
Banksy has been in this game a lot longer than me so I will have to say opposite however with his New York Residency I felt I had influenced him as I done a piece at barrow called 'to hell with canvas I'll stick to the walls' and held an outdoor free exhibition their which has now ran for over a year technically (since jan 2013) september 2013 Banksy does a kid puking flowers and calls his upcoming show "Better out than in" billed as the first outdoor street art exhibition.
Ted, Dark Knight, Spiderman, Blade, Kruger, etc. heroes that you adore ?
Yes its so much more enjoyable recreating these great characters in just as great settings.
And your messages, letters on wall…
The writings are usually spontaneous works and sometimes my favourite.
What percentage of your time is devoted to art ?
I'm not an Artist who paints everyday I drew throughout my younger years constantly, I treat what I do as a fun hobby that maybe one day will help me retire when I'm older, also a lot of my time gets consumed by answering messages with or without a brush its a 24hr a day job really.
What's in your toolbox ?
Depends on what direction my works going at the time for street work I use mtn 94 spraypaint, duct tape, surgical gloves, camera, posca paint pens. But I also have lots of decent colouring pencils, acrylic paints etc. for other works I occasionally do.
How do you feel about the movement of street art into galleries ?
Mixed Views in fairness on that as people have to make a living and as there's a demand there needs to be supply but I think sometimes these galleries are not stocking street art when the artists aren't even risking painting on the streets like they want to skip the hardest part and just cash in.
Are you generally satisfied with your work ?
Yes I used to be a bit of a perfectionist when i was at school but nowadays I just work on a piece till I feel I can sleep well over it I still just see faults when I look at my work however I recognize that if I can see them then I can fix them and it means I'm still improving.
How has your work evolved throughout the years ?
It went from still-life and nice things into very drug influenced as my life took the wrong turn at 19 then for a long time I did nothing until I was 32 and decided to get clean from drink and drugs and focus on a talent I'd buried but knew I still had, the works at that phase were very dark and it was also my early days of stencilling which I've evolved in that greatly in just 4 and a half yrs.
What do you think the role of the artist in society ?
I think we have quite a voice in todays society due to social media networks our messages travel further than a gallery or street wall.
What's the most dangerous situation you've faced when doing street art ?
Sometimes the drivers I use to get places are bad enough but aside from bad driving I was once at barrow painting the pennywise piece when lots of glass and roof tiles fell right beside me I've been very lucky some of the screwed up buildings I go in are incredibly unsafe.
Are there any artists that you would like to collaborate with ?
Yes there are lots of great street artists I'd love to work with STIK or Dolk and even though I doubt he would… Banksy. I'm hoping to collaborate this year with the artist AK47 head of the Art Kieda whos based in London.
What's next for you ?
I'm currently the subject of a documentary being filmed over the next few weeks I am hoping to go back to Norway this summer and Up Art Studio, Houston Texas U.S.A where my works been in a few shows want me to paint out there so aiming for around september. Also another possible print release through Bottleneck Gallery in New York this year.
What is the question I haven't asked that you would like to answer ?
What is my long term goal ?
JPS links
JPS pictures