Interview : Shamsia Hassani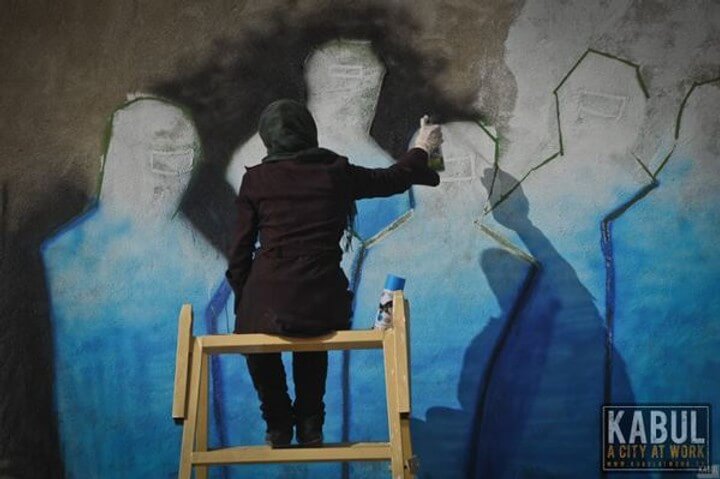 Who are you ? And where are you from ?
I have started to do art as every body has started, when I was 3-4 or before that, which I can not remember, but as I mentioned before, every child like to do painting and drawing, but the important point is to stay artist until future as well.
I was born In Iran, it was not my country, but at the same time, I never been in Afghanistan, as an afghan person I have faced with lots of limitations, like they didn't let me to study at art department, only because of my nationality, so when I get back to Afghanistan with my family, I have started studying at faculty of fine arts of Kabul university in 2006 and then, I have started making contemporary art, as well.
In 2009, I was selected as one of top ten artists, so after then me and 9 other artists have decided to work for developing contemporary arts and that is why we get like an artists collection at first that we called it "ROSHD", and now it is an organization by name of "Berang arts".
What does your name mean ?
My name means the Sun and I always love the sunny weather as well.
How and why did you get into street art ?
I have started to do graffiti in 2010, in a graffiti workshop that organized with Combat Communications, when a graffiti artist came from UK, by name of CHU to introduce and teach graffiti to us (8 artists of Berang).
After the graffiti workshop everybody left making graffiti, cause of difficulties and other problems, but only me decided to continue graffiti. I was alone with too much ideas, full of energy to achieve my goals, the reasons that I like to do graffiti are :
1- with making graffiti I want to cover all bad memories of war from people's mind, with colors to cover all bad element of war with my graffiti's.
2- to introduce art to people with making graffiti, cause as you know afghan people has no chance to visit some art gallery or museums, or they don't want to go to some art exhibition, so if I do art everybody will enjoy it. In outside it is for longer time and slowly people with memorize it and it will be part of their life when every day they use the same way of that wall, it doesn't need to ticket as well, it is colorful and bringing some change and give too much color to people's mind.
3- I could say my words with shape to people, easily, image has more effect then word, and it's a friendly way to fight, as I am fighting, now, for women rights as well with my art.
4- I believe there are many who forget all the tragedy women face in Afghanistan that is why I use my paintings as a mean to remind the people. I want to highlight the matter in the society, with paintings reflecting women in Burqas everywhere. And I try to show them bigger than what they are in reality, and in modern forms, in shaped in happiness, movement, maybe stronger. I try to make people look at them differently.
Spray cans or brush ?
I am using spray cans, but we have no good quality spray cans here, and sometimes for details some times I use small brushes and acrylic paint.
Colors or black and white ?
I am using colors mostly blue but during these last month, purple color came to my artwork as well.
Are there any artists that you would like to collaborate with?
I would love to collaborate with Banksy.
Shamsia Hassani links
Shamsia Hassani pictures