Owning a Banksy is to own an iconic piece of British history and buying one is something many would love to do, but the path to finding the genuine article is fraught with uncertainty. From fakes to (astronomical) fees, there are plenty of pitfalls for the greener collector, especially where auction houses are concerned.
So, given recent auction results signal a cooling in the stratospheric appreciation that Banksy works have enjoyed over the last 10 years, and recent auction results signal a cooling in the market we spoke to some of the experts in the field about how and where you might want to start, regardless of budget, and whether now is a good time to invest in a Banksy. Here's what we learned.
Why Buy a Banksy Print now?
Banksy broke into the world of commercial art in the early 2000s, his value and popularity rose steadily for years. By 2019, he had made it to the top of the pyramid, outrunning Picasso, Da Vinci and Monet as Great Britain's favourite artist according to a popular vote. In 2020 amid the pandemic the market boomed, but flooded with supply the market has now softened and offers the perfect opportunity to buy before it matures upwards again.
The artist's secondary market is huge. If your budget is bottomless you have a lot of options. Certain pieces are more desirable than others, based on rarity and appeal. The most sought-after Banksy editions are often those directly inspired by or based on his graffiti pieces.
Girl With Balloon, voted the UK's favourite artwork in 2017, is one of Banksy's most iconic and sought-after works. Stencilled murals have cropped up on walls from London's East End to Jamaica. Banksy released Girl with Balloon in 2004 in 150 signed and 600 unsigned editions, as well as artist's proofs with purple, blue, pink and gold balloons. A signed edition of Girl with Balloon cost £150 when it was originally released in 2004 – they can now sell for over £500,000, with special artists proofs realised over £1million.
Banksy's rats are another remarkably successful series of prints. Love Rat and Gangsta Rat are the two most desirable. Both were released in 2004, with no more than a total of 750 editions for Love Rat and 500 for Gangsta Rat (although Banksy later released rare colourways for the latter).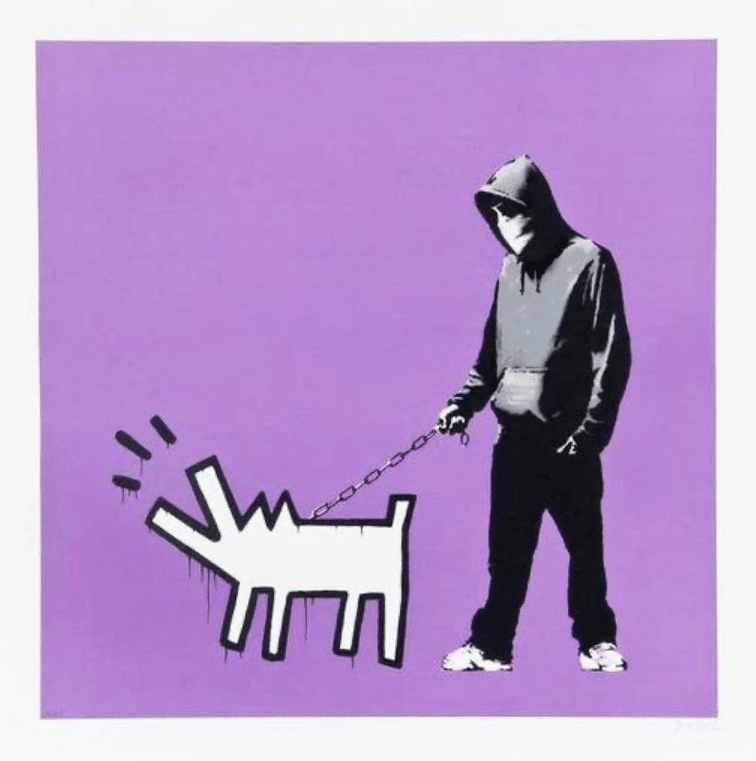 Choose Your Weapon was produced in a range of colourways, with some more desirable than others. This famous image of a hooded youth taking one of Keith Haring's cartoon dogs for a walk comes in 19 colours. The rarest colourways are yellow, green, purple, pink and turquoise, which are available in 25 signed editions each. The grey colourway was produced in 58 signed editions, but these can be as in demand as the rarer colours. A Choose Your Weapon (Grey) sold for over £200,000 at Sotheby's in March 2021.
Other than surprise 'pop-up' shops – such as one demonstrated by Banksy in New York in 2014 or Gross Domestic Product in Croydon in 2019 – there has not been a public print release since Sale Ends V2 in 2017, which keeps the value of Banksy's secondary market bubbling.
Another important consideration is if the piece has Banksy's signature. Banksy's prints often come in both signed and unsigned, numbered editions, as well as artist's proofs. There are usually 600-750 unsigned editions and 150 signed editions per print.
How much does it cost to buy a Banksy?
Today, buying an original Banksy on the secondary market can cost you millions. Game Changer broke the record for the artist at £16.8 million. The powerful mix of the artist and the cause: the NHS in the wake of Covid19, realised an outstanding result.
A Banksy limited-edition print, however, starts from around £30,000 up to hundreds of thousands, based on rarity, popularity and whether it is signed or not.
On Ebay and at auction houses (such as Tate Ward who specialise in Banksy memorabilia) you can get your hands on something 'attributed' to Banksy for a few hundred pounds. Just be sure you love it and it's not an investment you're after, as unauthenticated works have a hard time holding their value in a less stable market.
What makes one Banksy more expensive than the next?
Rarity, popularity and whether a print is signed or unsigned can significantly affect the work's value. To check if a work is signed, check the bottom corners of the print – it should have a signature in pencil and also a number as a fraction. The bottom number shows the total number of prints within the edition, while the top number is the number for this specific print.
The market for Banksy grew by a massive 270% in 2020 alone, and this year it's still growing – more slowly however, as sellers flooded the market in the Spring in the wake of the boom.
If you're looking to purchase a print, you should watch auction results or consult a dedicated prints specialist like MyArtBroker who can advise you on what to pay, and what to look out for.
If you're in the market for collectables, and a piece that still represents a piece of Banksy history, but might not be sold with authenticity and therefore command slightly lower prices, you might want to talk to Tate Ward, the auction house specialises in the bottom end of the market with their Urban Art sales.
How do you know what you're buying is a genuine Banksy?
Pest Control is the only contact you can truly rely on to ensure the authenticity of any Banksy artwork you are looking to acquire. They offer buyers the opportunity to check authenticity before they commit to buy.
If the artwork you're looking to purchase already has a Pest Control Certificate of Authenticity they can ensure the document is genuine – if the work doesn't come with a COA a seller has the responsibility to apply for one ahead of sale. MyArtBroker offers a great guide on how to apply and what to look for ahead of sale.
However there are plenty of works that they will not, on principle authenticate, this does not mean they are not genuine, but their value and authenticity cannot be certain. If a work was created for the street, they will not certify it – street art works are meant for the public,and not to be owned. It is their way of ensuring the work stays outside of the commercial art market as much as possible, and retains its original purpose.
However, the original prints market is not of that ilk, and all prints should and can come with a certificate of authenticity – as MyArtBroker the team behind the Banksy focussed platform that's been trading more Banksy prints and originals than any gallery or auction house in the last year alone, explain – 'if a seller can't supply a CoA, you should question why.' Their lead broker has been operating in the Banksy market since 2008, and offer one of the most watertight dealerships on the market. So, whilst there are opportunities 'off grid' for posters, postcards, and general Banksy ephemera, if you're in the market for a print and the seller'snot willing to have the work certified, you might want to think again.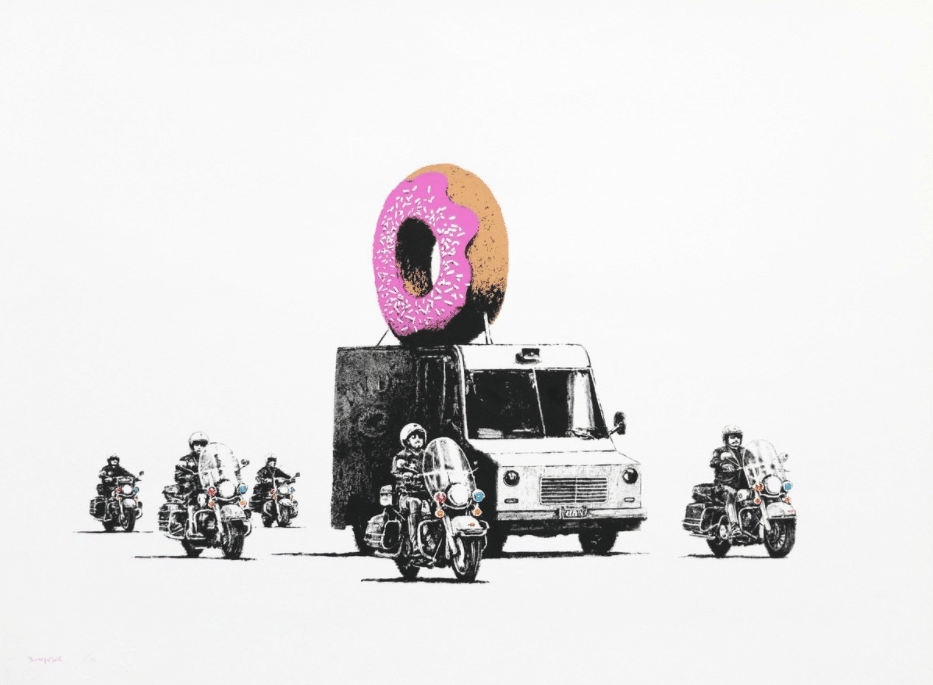 Can I buy a Banksy from Banksy?
From 2003 to 2017 Pictures on Walls supplied prints to the open market. Since then very few prints, if any, have made it onto the primary market. Until, in the Autumn of 2019, Banksy filled a shopfront in Croydon with a collection of new artworks and announced it on social media as his new venture, Gross Domestic Product.
Fans flocked from all over the country to get their hands on his latest series of anti-establishment, irony-laden editions only to find that this was unlike any other store or gallery. Instead of entering the shop, buyers were directed to a website where they could register their interest and be entered into a lottery to win just one item, accompanied by a litany of terms and conditions.
A play on the long running online marketplace 'eBay', BBay is Banksy's latest foray into controlling how his work is sold. It's hard to say until it officially launches but BBay is thought to be an offshoot of Pest Control, itself which provides authentication of Banksy artworks to those interested in buying or selling his work on the secondary market. So it's a take on buying from 'source'.
Currently the buying and selling of Banksy artwork takes place via several models, either via private sale, live and online only auctions, as well as from galleries that offer secondary market artists.
Can I buy something from Gross Domestic Product on the secondary market?
Whilst there are many sites and listings for Banksy's GDP artworks online, it is not advisable to part with your money just yet. When GDP was launched the artist ensured quick sales or 'flipping' of artworks would be avoided by forcing buyers to wait two years for the all important Certificate of Authenticity issued by Pest Control. This means that until October 2021 all GDP artworks have not been authenticated and due to the nature of their production – including the use of upcycled household objects and stencils – and large edition size, there are a lot of fakes on the black market.
Where to buy a Banksy?
If you've £30,000 or more to spend, you're onto a winner, as your passion for work could also double as a substantial investment. However there are multiple places to approach depending on what your priorities are.
MyArtBroker have specialised in Banksy prints since 2008, they're the 'We got her firsts' of the dealers that specialise in Banksy. They're deep in this market, and only offer works with full Pest Control certificates, and allow you to submit an offer on works without the stress of bidding. The price they quote is the full price (no hidden fees).
The network is probably the largest in the Banksy print market, and means you'll have the pick of the best opportunities via their down to earth brokers. Top tip: ask for 'Joe' ; he's the lead specialist and one of the original founders.
They can also source works within a budget, and will happily tell you if your offer is realistic under current market conditions. They also keep their guide Print by Print up to date with every auction so you can gauge your level and 'in' from that. The reviews are great.
Top level auction houses have flooded the market with authenticated only Banksy works since the market started doing better than anyone expected in the midst of the pandemic. The specialists are amazing, and the platform for exposure is plentiful. It's always worth looking in auctions to see what's coming up. You can always put in an after sale on things that don't sell. And bidding is an exciting experience meaning you're buying an experience as well as a work of art, and a significant asset.
Just bear in mind the price you bid is the hammer price only. You'll pay a 25% buyers premium on top of that, and then VAT at 20% on that premium amount. Worth bearing in mind before you raise your paddle one more time in the heat of the moment.
However, auction houses have made it easier than ever for you to bid wherever you like in the world. A few hiccups with tech have been heavily publicized but over all it's the name you're paying for really, isn't it.
Maddox Gallery
No contemporary art 'where to buy' would be complete without a mention of the sharks of this gallery scene. Maddox are big, they're glittery and they're a glamorous alternative to auction. They also have a huge amount of stock, but beware the prices – they are some of the highest around – and ensure you read the small print – we've heard reports that once you buy you don't necessarily buy outright, and the gallery still retains the right to claim commission upon resale! This gallery is glamorous but not for the faint of heart.
HangUp
The 1500 ft two-floor gallery space HangUp Pictures is located in the heart of Dalston has an always-on exhibit known as the Banksy Bunker. The gallery have slightly suffered from trying to keep up with the likes of larger highstreet galleries, which has limited their network online. The result is slightly high prices and less personal service that one would expect with a smaller gallery in such a great space. It's very cool all the same.
Andipa
Andipa is a great gallery with large stock and plenty of both prints and originals, many at ridiculous prices but sift through to find the gems.
Tate Ward
Great little auction house with plenty of affordable Urban Art to take your pick from. Tate Ward have been known to sell fakes in the past, but they've learnt from mistakes and have now gained a huge following in the Banksy merchandise market, and are a better option than going it alone on Ebay.