Art on walls has always been a way to express the people's concerns. Graffiti and murals reflect the crises, the anger but also the hopes of a people, especially in a time of war.
We all remember Banksy's engagement in Palestine in July 2005 when the latter painted a series of 9 murals along the wall which separates Palestine from Israel, a wall which 'essentially turns Palestine into the world's largest open prison', according to the guerilla artist. Most of his pieces are deliberately provocative and definitely stand in favour of freedom and equality.
In 2015, Banksy intervened in Gaza where he painted 4 new pieces among the ruins of a bombed city in order to highlight the plight of the people living in the Gaza Strip.
'Make art, not war' clearly became a true motto for some street artists. In September 2014, Shepard Fairey also demonstrated his support in favour of peace with a mural he entitled 'Make art, not war' created for Urban Nation in Berlin, Germany.
A year after, the American artist and his crew revisited the German capital to paint the gigantic mural 'Israel / Palestine' as a message on the ongoing conflict between both countries.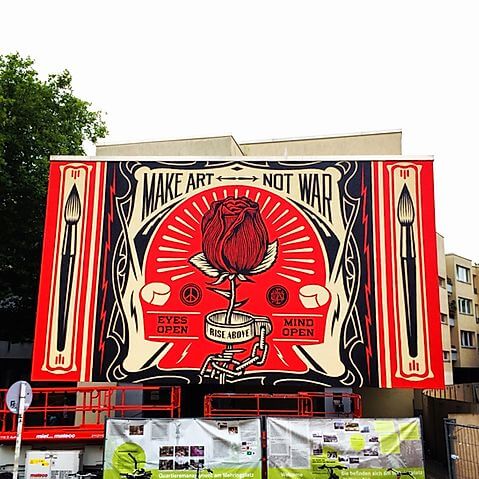 Last year, Syrian artist Tammam Azzam used identifiable works of art to draw attention to the tragedy of the Syrian conflict. His most popular work, 'Freedom Graffiti', shows Gustav Klimt's well-known painting 'The Kiss' photoshopped against a ruined building. This image of love being more powerful than war has quickly gone viral through social networks. He also juxtaposed famous works from Picasso, Goya, Dali, Da Vinci and Andy Warhol with Syrian bombed buildings. The artist, who was forced to abandon Damascus in 2012, participated in Banksy's Dismaland, a temporary 'family theme park unsuitable for children'.