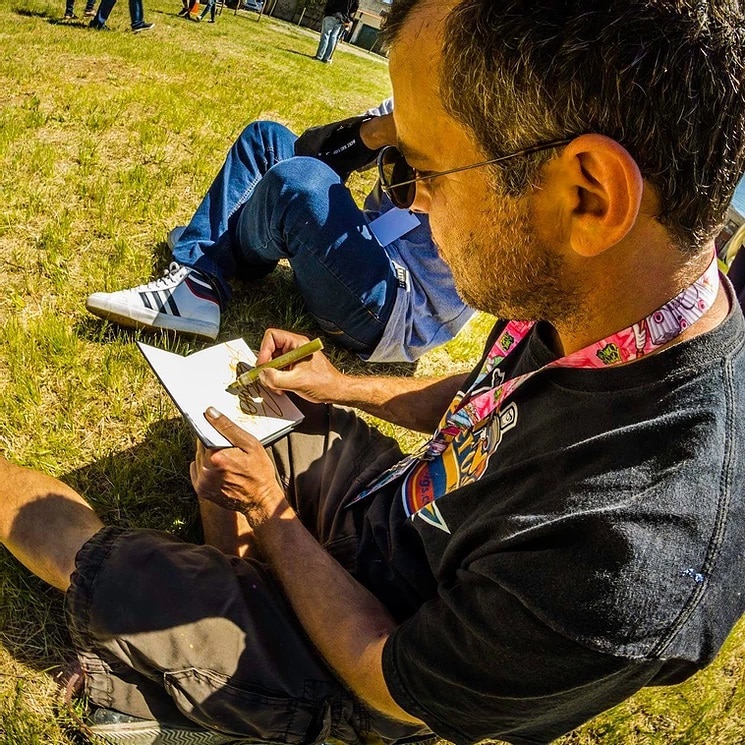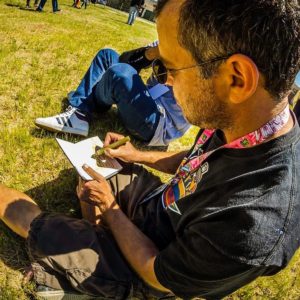 Founder of the Meeting of Styles Festival, now a global street art phenomenon, Manuel Gerullis, enjoys street art that challenges the order of daily life. His projects aim to bring together different styles and cultures, to add colour to grey city streets. Here he tells us more about his personal impressions of the art scene around the world, his favourite artists, and the good he knows movements like Meeting of Styles can do.
NAME: Manuel Gerullis
OCCUPATION: Founder of Meeting of Styles Festival (www.meetingofstyles.com / @mos_uk)
HOMETOWN: Originally Wiesbeden, Germany
1. Favourite city for street/urban art?
Many cities have got own flavour and vibe, but outstanding to me are New York City, Buenos Aires, Bogota, Barcelona, Berlin, and Hamburg. It is not only the urban art which makes them special to me, it's the flavour, the urbanity, the vibe.
2. What was the first work of street art you ever saw? How did it make you feel?
Being part of the first Hip Hop genereation in Germany, I was inspired by the holy book Subway Art, and the movies Wild Style and Style Wars back in 1984. It was the same time when a local skate guy did the first pieces in Wiesbaden, which impressed me a lot. Back then it was names like Mr. Bob, Smax, Insane Graffiti Artists, and Jam.
3. Which work of street art has made the deepest impression on you since then?
My heart is with traditional Graffiti even though I appreciate and admire Muralism, Street Art, Ad Busting and all various types of urban art. I get this old-school feeling, and I am most impressed when I see subway cars from NYC from the 70s and 80s. The art, the cars, the city; NYC of the late 70s and the early 80s was the ultimate Graffiti playground. This made the deepest impact on me.
4. Who is your Street Art hero? Why?
There are many heros and great artists out there, including train writers, muralists, and street artists. There are too many to name, but I am deeply impressed when I still see pictures of writers such as Seen, Lee, Blade, Skeme and all the other NYC old-school rockers, the likes of which I have never seen before. I have lots of respect for Banksy and Blu, because of their political statements and messages; Wild Drawing for his political messages and skills; and Aero, Odeith, and Vile for their styles and skills.
5. Should graffiti be decriminalised?
Absolutely. Art is democracy and I think freedom of creative expression should overrule the possession of dead matter. But this is utopia. Our world and system are based on property: my land, your land; my house, your house.
6. Artist editions or murals?
Murals, trains, productions, whatever. Creativity and inspiration.
7. Street Art: more art or activism?
Art can be activism. It is a matter of intention and the mind behind.
8. If you could invite only 3 guests to your street party who would they be?
I don't consider Blade, Lee, Seen street artists, but these are the ones I would choose. I would listen to their stories like a child.
9. What would you eat and drink?
Sandwiches and beers.
10. What is your favourite street art festival?
Meeting of Styles. It is great to meet artists from different corners of the world to celebrate painting and culture, and to see that we have more in common than what divides us.
11. Stencil or freehand?
Freehand.
12. Colour or black and white?
Black and white can be very effective, but to me they are just two opposites of grey. I go for colour; to me it is life and vividness.
13. Why do you think street art has been growing in popularity over recent decades?
Because it gives freedom to creative minds who often feel imprisoned in a world of steady structures and narrow minds.
14. Does street art belong in museums?
Definitely not. It belongs to the street and is out there to turn cities into galleries and museums.
What advice do you have for young street artists or enthusiasts just starting out?
Learn your history and give respect.
16. What are you working on now and what's next?
I'm working on some jobs and projects, but constantly working on Meeting of Styles. Preparing for Meeting of Styles Germany, promotion of our events, and preparing MOS merchandise.
17. What do you think makes street art so appealing to the general public?
It adds colour and variety to a grey world dominated by greed and opportunism. It breaks the common perception of what a city is supposed to look like.