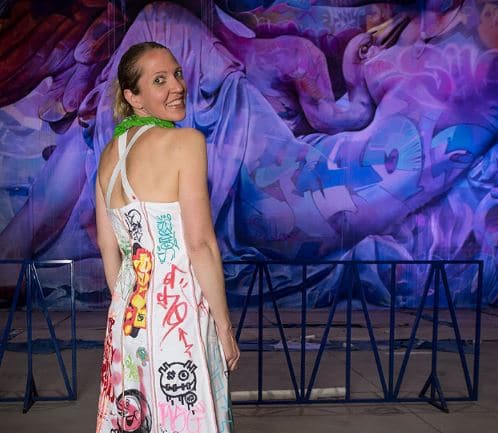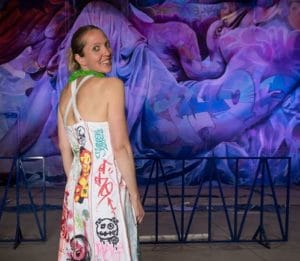 Curator Marianne Vosloo is one half of the team at SWG3 in Glasgow who bring the Yardworks festival to the city every year. Here she shares her wide ranging knowledge of street art, subvertising and graffiti and tells us what first inspired her to work in this field.
NAME: Marianne Vosloo
OCCUPATION: Independent Curator | Arts Programmer at SWG3 Glasgow
HOMETOWN: Glasgow, originally from South Africa
1. Favourite city for street/urban art?
In Europe it's Berlin for me because it's got absolutely everything in one city. From the former Kunsthaus Tacheles to the URBAN NATION Museum, and RAW Tempel, an area that encompasses the remains of a ruined railway repair works complete with its own war-time bunker – a perfect playground for street art and graffiti. There are many other secret locations, site-specific shows and abandoned urbex locations to explore if you know someone who knows someone…
2. What was the first work of street art you ever saw? How did it make you feel?
I grew up in South Africa and experienced my first graffiti pieces in the 90s in Johannesburg – usually post-apartheid works or pieces made in resistance to other political issues. I was instantly intrigued by it and I wanted to know more. The first mural art I ever saw was the traditional murals and colourful patterned Ndebele House paintings of South Africa.
I moved to Scotland in 2003 but I would say it was probably in London where I first noticed street art. The classical painting technique of Spanish artist Borondo stood out most on a large billboard under a bridge in Hoxton and other parts of the east end before the area became very redeveloped. Looking at his work truly felt like he played with place, space and scale in a way I have never seen before.
3. Which work of street art has made the deepest impression on you since then?
It's really hard to choose one! There are so many… In Barcelona I came across the Keith Haring wall outside MACBA 'Todos juntos podemos parar el sida / Together we can stop AIDS, 1989'. The Inti Castro mural Primavera Insurrecta that was painted in Chile in October 2019 is also hugely inspiring. Watch the video clip from the artist's Instagram to get a sense of the atmosphere and the adaptation of the artwork to capture the surrounding context.
Then there's PichiAvo's Leda and the Swan at SWG3 Glasgow – I watched this incredibly talented duo from Valencia transform a huge wall inside the Galvanizers space, combining layers of graffiti and classical art. I was also very fortunate to meet Treze when he painted at Yardworks Glasgow in 2017 before he sadly passed away a few months later at the age of 31. Treze was recognised for an exceptional ability to combine colours in his distinctive illustration style with a sketch-style outline.
4. Who is your Street Art hero? Why?
My heroine would have to be Swoon, a.k.a. Caledonia Curry. Her art practice incorporates activism, humanitarianism and community engagement and takes on many forms including installation, wheatpastes and stop motion film. And my hero would have to be Saturno.
5. Should graffiti be decriminalised?
I think it should be non-custodial. I am not averse to community clean-up of listed buildings and certain damage but I think it can add to the spaces in between. Glasgow for instance has long and narrow city lanes at the back of buildings that are neglected gritty-looking spaces and recently graffiti writers and street artists have started putting forward projects and funding raised by the community to change and activate these spaces.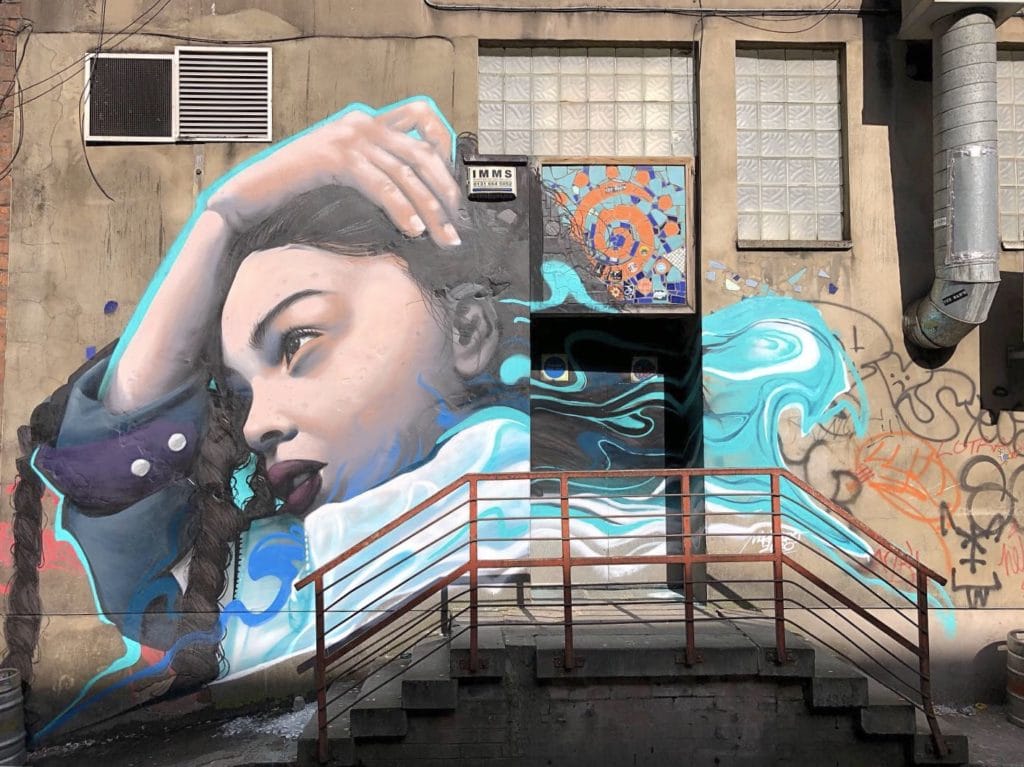 6. Artist editions or murals?
Upfest in Bristol release limited editions of designs by street artists and graffiti writers that audiences get to see being painted live over a weekend. I think the edition takes on a different value when existing before the original artwork is created.
I like murals but for the past few years I have been researching other important street art forms such as subvertising, ad takeovers, street craft and wheatpastes as well as other forms of art in outdoor public space like sculpture, intervention, projections and performance. I think variety can really add to dialogues and the value of art in urban outdoor environments.
7. Who's the new Banksy?
I find the various reactions to Banksy very amusing. The art market he makes fun of, the art schools that prefer not to mention his name, the people trying to steal his work in outdoor space, the graffiti scene with their mixed emotions, his anonymity and social critique. I think there should only be one Banksy but I do think more artists should use their power and influence to change the imbalance, accessibility and exclusivity of the art market to include more variety.
8. Street Art: more art or activism?
I personally see Street Art as both art and activism. There is definitely a large proportion of artists using the platform for resistance and it's a great platform to draw attention to cultural, socio-political, social justice and environmental issues. The unsanctioned side of street art is activist in itself. There is no other art movement that reacts globally, in such a strong and direct way to social injustice, as seen recently in reaction to the death of George Floyd and the Black Lives Matter movement.
9. If you could invite only 3 guests to your street party who would they be?
It's a hard choice but it's going to have to be Futura 2000, Stormzy and Swoon. If I could go back in time it would be Keith Haring, Jean-Michel Basquiat and artist, rapper, and theoretician Rammellzee.
10. What would you eat and drink?
Mexican 'Antojitos' (literally meaning 'little cravings') like tacos, gorditas, tamales and plenty of tequila, beer and margaritas.
11. What is your favourite tag?
The tag is the most famous embodiment of graffiti culture and within street art it tends to be applied by artists with a graffiti background. My favourite tag is by Bakeroner from the SUK (Stick Up Kids) crew based in Germany.
12. What is your favourite street art festival?
I am very proud to be the co-organiser for Yardworks in the Galvanizers Yard at the SWG3 multi-disciplinary arts venue in Glasgow where 125 artists come together every year. The live art event started in 2017 to show the process of graffiti, and street art and design. In just 3 years it has evolved to include sub-genres and many other art forms including street craft, sculpture and sign writing. The live programme of events in response to the art represented includes workshops, skateboarding, dance performance and panel discussions.
In 2018 the event was opened by the legendary NYC-based Martha Cooper (known for documenting graffiti in the 70s and 80s and her book Subway Art) and Berlin-based Nika Kramer (specialising in B-Boy and B-Girl photography). Some of the international artists from the past 3 years include: Digital DOES, Voyder, Musa71 and Harry Bones among others.
Outside of Glasgow, my favourite street art event is Nuart. The festival was established in 2001 in Stavanger and runs an event in the twin city of Aberdeen. I highly recommend the festival, all related programmes and the Nuart Journals that they publish.
13. Stencil or freehand?
I value both stencil and freehand, however I feel freehand has scope for more wide-ranging techniques and mediums.
14. Colour or black and white?
Colour although I do love black and white in the work of Brazilian artist Derlon Almeida and in photography, like the work of Vivian Meyer.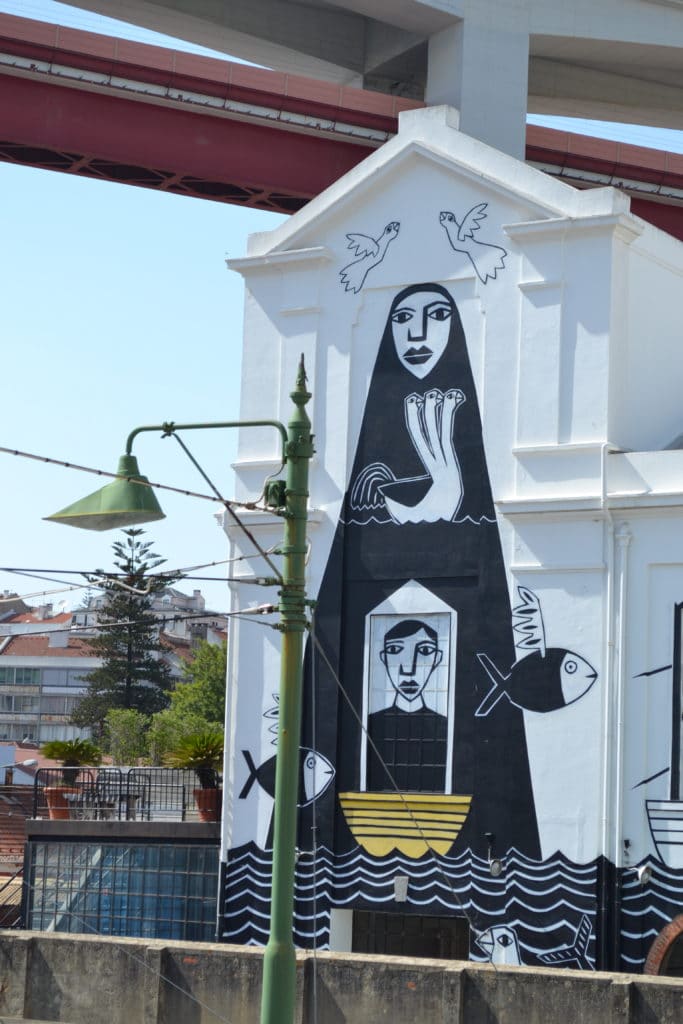 15. Why do you think street art has been growing in popularity over recent decades?
Many reasons really. Street art and graffiti have influenced popular culture for years through fashion brands. The art form is often used to regenerate areas for development or corporate companies use it for advertising and so on. I would like to see a more balanced market for the artists in the future and less exploitation of the art practice.
16. If you could watch anyone at work who would it be?
Paradox and CPT.OLF in Berlin – watch this video to see why.
17. Does street art belong in museums?
Street art or graffiti often loses meaning or impact when removed from the context it was created in. The greatest examples of museums featuring either art form and sub-genres such as wheatpastes, urban interventions, subvertising, murals, stickers, installation and so on are the museums specifically dedicated to showing the practice, historical documentation and tools of the trade.
The best shows tend to take place in site-specific alternative spaces and an example would be the 'BEYOND THE STREETS' showcase from 2018 in Los Angeles and 2019 in New York. I highly recommend a trip to URBAN NATION in Berlin, a museum that skilfully connects the interior with the exterior landscape of the city and a space solely dedicated to urban contemporary art practice.
What advice do you have for young street artists or enthusiasts just starting out?
Sketch as much as you can. Everyday, in between. Engage with local communities and be open to sharing skills, learning skills and collaborating with others.
19. What are you working on now and what's next?
I am currently completing an MLitt in Curatorial Practice (Contemporary Art) at Glasgow School of Art and the University of Glasgow. My research focuses on activism in art practice, occupying public space as a mode of resistance and how art can confront and challenge structures of power, control, influence and inequalities, with a focus on the pandemic period.
My work at SWG3 will also expand into further new and exciting developments in the arts programme and events.
20. What do you think makes street art so appealing to the general public?
There is something to be said about art leaving the walls of the traditional white cube and engaging directly with the public in the urban environment. Some love it, others not so much but it is an art form that empowers people. Street art gives a voice to a community that are often marginalised and a platform for artists seeking to work in alternative ways.