Our top tips on getting the best price for your Banksy. Plus we explain live auction, private sale, online auctions, Pest Control, and more.
Best in class: MyArtBroker, Sotheby's & Tate Ward
SELLING ORIGINAL PRINTS & EDITIONS: MYARTBROKER.COM
SELLING A MASTERPIECE: SOTHEBY'S
SELLING MERCHANDISE & EPHEMERA: TATE WARD
If you're one of the lucky few who've acquired a work by Banksy, at some point you're likely to want to release its value; whether you're trading up to a rarer piece by the artist, looking to cash in on your investment, or you've had a change in collecting taste. In all cases, you'll want to maximise your return; but, you may also have other priorities, such as selling it as quickly and conveniently as possible. Either way, there are an increasing number of ways to sell an artwork by Banksy – and a number of steps you can take to ensure that you get the best price for it with the right buyer.
The first rule of selling any work of art is to find the right platform or intermediary for your piece. They need to have an appropriate audience and fee structure to suit you. Banksy paintings, prints, merchandise, and memorabilia are hot property right now. The Banksy market at all levels of value has been steadily growing for the last ten years. In 2020, it skyrocketed at all value points and now the market is maturing there are even more variables to be aware of.
In response to Covid-19, the Banksy market in 2020 moved entirely towards online sales. Over 16% more works by the artist sold compared to 2019; and in 2021 that has risen again with almost as many Banksy prints through auction in Q1 alone, as in the whole of 2020. MyArtBroker publishes a quarterly report on the market to keep collectors up to date.
The value of Banksy's print market went up 83% in the 12 months while Covid19 ravaged the off line art market; but, the actual median artwork price for all work accredited to Banksy dropped. This is because lower value merchandise and memorabilia flooded the market place, allowing for collectors at all levels to enjoy the Banksy boom.
Now in the dawn of a maturing market, we offer Best-in-Class intel to where and how to sell a Banksy.
BEST IN CLASS: When Selling a Banksy Signed or Unsigned Print with Pest Control Authentication
MYARTBROKER.COM
When it comes to Banksy prints, the market has been so liquid that you should be aware you're entering an environment much like the stock market, where buyers and sellers trade prints like chips. With the market at an ebb, you're looking for price control (knowing how much you really want to let go of your Banksy print for), convenience, financial return, and security. Collectors move fast in this market. For that very reason, MyArtBroker comes out trumps. They've specialised in the market since 2008, and in doing so have unlocked exactly what works best for Banksy sellers in any current market.
As a seller, you can request a valuation for your work within days, they offer 0% to sell (and no fees attached) and connect you with their Banksy broker upon registration. There doesn't seem to be a catch, and clients are all too ready to discuss the benefits of using the platform.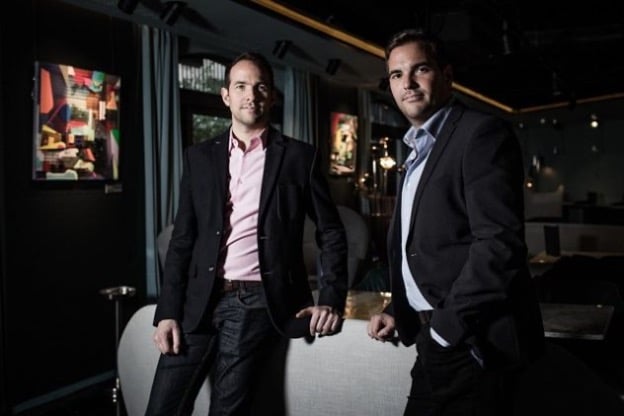 Banksy at MyArtBroker
At MyArtBroker they offer many of the services you would expect of a blue-chip gallery but don't always get. They help authenticate the piece, advise on any research or restoration needed ahead of sale, value it against current auction house data and their own data within the private market, and identify a buyer within days. They also negotiate the deal with the buyer, and help arrange collection and delivery all without cost to the seller. We can see why it works.
Their mission is to always return the seller what they would have returned had they sold via auction; and, for a lot less legwork from the seller, we can see why the company was recently heralded as the 'solution' to Banksy print sellers by the Evening Standard in 2020. They explain in their own words: "MyArtBroker is rooted in successful technology, to bring our network of buyers and sellers together in one place, whilst still being able to speak one-to-one with every single one of our clients. Offering expert care and consultation, with speed and convenience, is what we stand for."
Clients also seem to appreciate the anonymity and convenience of being able to offer something with complete confidence without it leaving their home until the date of sale. The reason this works, of course, is because of Banksy's authentication body: Pest Control, the expertise of whom MyArtBroker will not trade without. They also have a network of over 10,000 collectors on standby, waiting for specific Banksy works to surface. Clichéd as it might sound, they are literally the Uber of the Banksy market, allowing you to list your works for sale, as well sourcing works that you are looking for.
Whatever you do, don't be lured in by Sotheby's and Christie's dedicated online-only Banksy sales, which comprises mainly prints. Christie's aptly-named Banksy: I can't believe you morons actually buy this sh*t, broke the auction record for a Banksy print in September 2020, when a very rare Girl with Balloon – Colour AP (Purple) from an edition of just 88 artist proofs sold for £791,250, on an estimate of £250,000-£350,000. Whilst they've sourced and sold some record-breaking results, the fees you'll pay just won't return you as much as on the dedicated private market.
The very nature of editions means there is never just one chance at an artwork, making the fundamentals of auction frankly much less exciting to all concerned. With editions, if the price isn't right for the buyer at that moment of sale, there is no particular incentive to keep bidding, a prints auction (whether live or online), lacks the once-in-a-lifetime energy reserved for a masterpiece. There is always an opportunity elsewhere for a print from the same series. For example in the case of Girl with Balloon – Colour AP (Purple), as an edition of 88, there are another 87 potential opportunities.
Who are the Runners Up?
There are other auction houses that specialise in limited edition Banksy prints, including Forum Auctions, Heritage Auctions in the US, and even the floundering Bonhams has the odd good result. However, another issue with selling prints via online auction, is that the costs of selling online is the same as in the grand live auctions. Auction houses aren't nearly as quick to offer 0% deals on works below £1m, which is why, although a handful of sellers will still vye for auction sales for the gravitas alone, there are several other much more convenient and cost efficient ways to sell.
Highstreet galleries like Maddox, Hangup, and Andipa offer swift private sales too, and can find you a buyer without the wait of auction, but many demand hefty commission rates off the buyers and sellers in order to facilitate the costs of running a bricks and mortar gallery. Also you should not they are also not specialists, but gallerists after all, and therefore expertise around authentication and condition can be very weak indeed.
Who to Speak to?
MyArtBroker's Joe Syer
Co-founder, and Chief Banksy Broker
[email protected]
+44 (0)7858 384 877
MyArtBroker was set up by two brothers, Ian and Joe Syer. Whilst the company has grown significantly in the last ten years, with specialists in all areas of the contemporary prints market, the brothers are the resident experts in the Banksy field. They have operated in the market since 2008 and have known all their clients and collectors personally since Banksy's secondary market heyday.
Whilst Joe is their Chief Banksy broker, the platform itself is highly self-sufficient for buyers and sellers of all art within the contemporary and modern prints category. Those looking to sell a work can request a valuation at any time with a few clicks of a button, and list an artwork 'request' just as easily. They also offer valuations with a quick turn around and the all-important 0% to sell.
OVERALL – SELLING YOUR BANKSY PRINT AT MYARTBROKER
PROS: Expertise, price control, privacy and financial return.
CONS: Lacks the drama of auction, and you can't offer your buyer an auction house provenance.
BEST IN CLASS: When Selling Banksy Collectables, or an unauthenticated Banksy work.
TATE WARD AUCTION HOUSE
Here's the thing, buying and selling Banksy memorabilia and merchandise is a minefield; unlike with prints and editions, where savvy buyers and sellers will consult with Pest Control or secure a certificate of authenticity before trading, there are many unaccredited posters, box sets, postcards, and t-shirts.
What's more, you should be aware that street art that claims to have been removed (or stolen) from its original location – even if backed up by proof – is almost impossible to value. Pest Control refuses to authenticate anything that has been removed in this way from its 'natural environment'. Anything offered as such should be given a wide berth.
However, there is a huge demand for Banksy collectables with accessible prices, and, while eBay is a risky environment fraught with unknowns, Tate Ward has cleverly cornered this market. Tate Wards Urban and Contemporary Sales sell in total just over £1.3m a year collectively, so are not big shooters by any stretch; but, this is exactly what makes them right for this level of the market, offering a volume of lots at the lower end of the market to a client base ready to bid.
Unfortunately, in more recent sales in 2021, off the back of the Banksy Markets' boom in 2020 they've consigned works they don't seem to have had the network for, and it's become a bit of a shambles for Tate Ward ever since. When they've tried to stretch themselves to operate at a higher level – within the signed and unsigned prints market specifically – they've lacked the expertise, and understanding of the market to do the best by the seller. The strategy, as many auction houses align with, is to push the estimates right down to attract interest, and keep fingers crossed that the bids will do the rest for you. Sadly, it resulted in letting seller's down on some noteworthy prints in recent months, and worse where buyers are having sales retracted due to weak condition reports or authentication issues.
However, aside from ambitions a little over their credentials the auction house actually seems to specialise in Banksy merch, and whilst some unkindly refer to them as 'Tat' Ward, what they do, they do very well: to consign a large volume of Banksy merchandise, wrap it up in a contemporary auction alongside blue-chip artists, and market it as fine contemporary art at accessible prices. This is a good solution a step above Ebay where you'll likely get your work under the hammer regardless of condition issues or unsolved authenticity certification.
The auction house was set up by Nigel Shorthouse and Danny Herbert. Nigel was once Business Director of Christie's South Kensington (Christie's London's low-end little brother, which closed its doors in 2017 after over 40 years in operation). Danny started his life on LIFFE floor but, disillusioned by the world of finance and having reset in Ibiza for a few years, established his own Art Advisory and set up Tate Ward. Three out of four of the exec team are ex-Chiswick auctions, and two are ex-Christie's South Kensington. Their background makes for a savvy, but small, team that carried many of its previous lower-end clientele with them to the quirky Tate Ward world of Prints, Wine, and Jewels.
Banksy at TateWard
Do not however consign any 'serious' Banksy works with the auction house, their higher level Banksy lots tend to underperform. Unfortunately sellers have been burnt by entering their more valuable prints into Tate Ward sales, with lower auction rates than the big three would offer. The sheer volume of unlimited Banksy memorabilia significantly devalues the more important works. But, if you want to sell a poster, this is the place.
The house offers Banksy sellers a truly engaged and vast audience of young collectors with smaller budgets, who have recently been priced out of the prints market and are looking to get their hands on something from the hottest property around.
It's also worth mentioning that, unlike Sotheby's and MyArtBroker, Tate Ward will happily appraise and offer a work without a certificate of authenticity from Pest Control, where others wouldn't accept it.
Who are the Runners Up?
There are so many knock-offs and convincing imitations online that it's often impossible to see the difference between a fake and a genuine article. Ebay is often the go-to for this sort of Banksy lower value kit, and you might be lucky. The problem is that the sheer volume of reproductions, let alone purposeful fakes, makes it almost impossible to navigate for sellers or buyers. If you have something very special, it is unlikely to be seen by an active buyer, drowned out by the steady flow of reproduced merchandise and plausible but dodgy 'originals'.
If you search for 'original Banksy' on eBay UK today there are 5,600 listings. Very few – if any – will be for a genuine article accredited to Banksy. If you're going to list your Banksy with eBay, ensure you list it correctly – including as many images as possible and all the detail you can muster. You will have a better chance of finding a serious buyer willing to part with their cash. The issue with eBay is that you're still asking someone to spend a lot of money on an artwork from a seller they have never met. Your 'positive feedback' rating, and carefully constructed cataloguing can only go so far. Far better to let an auction house like Tate Ward handle the marketing of your merchandise or memorabilia.
Who to Speak to:
Danny Herbert
Head of Department Urban and Contemporary Art
[email protected]
+44 (0)7535 237121
OVERALL – SELLING YOUR BANKSY MERCH
PROS: No authentication paperwork required, lots of price points.
CONS: Inappropriate for medium and high value works, network is weak.
BEST IN CLASS: When Selling a Banksy Masterpiece
SOTHEBY'S AUCTION HOUSE
If you are in possession of a masterpiece by Banksy (original, unique, authenticated painting or sculpture) then you have something to offer the market that cannot be matched. Selling it on the private market might well allow for a quick and anonymous sale, but is unlikely to reap the rewards of the bidding battle that an auction allows for.
A one of a kind masterwork – such as the likes of Game Changer, Devolved Parliament, Show Me the Monet, and Forgive Us Our Trespassing, all of which sold at Sotheby's in the last two years for between £6 and £17m – fully deserves the drama of auction. Buyers at this level are fully aware that when a piece comes to market it presents a once-in-a-lifetime opportunity, likely never to be available to them again and are therefore likely to bid well in excess of the presale estimate. All you need is at least two prospective buyers with deep pockets determined to acquire the artwork.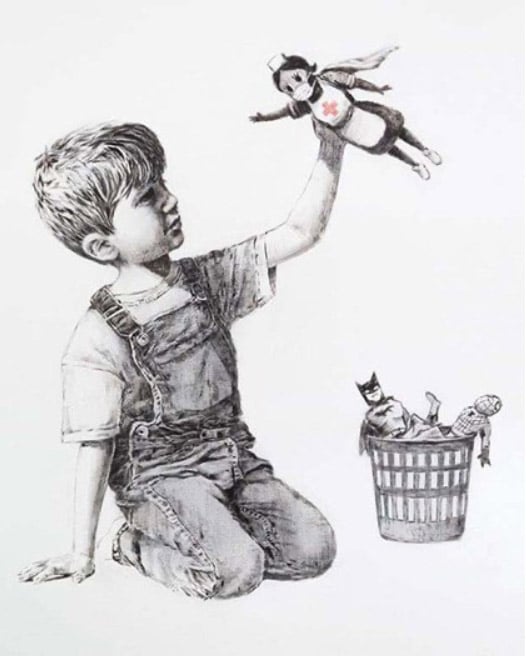 Auction bidding wars on masterworks are second-to-none in terms of excitement. They are emotional and public, making them a process that many collectors both crave and deplore. There is nothing like the buzz of outbidding your opponent at your last acceptable increment (bar perhaps the buzz felt by the seller as they watch the bidding soar above high estimate).
On the one-year anniversary of the UK's first national lockdown, Banksy's painting Game Changer, a touching tribute to key workers, sold for £16.8million with proceeds going to support the NHS charities.
During the first lockdown of the coronavirus pandemic in 2020, many people around the UK displayed rainbows in the windows of their homes to show their gratitude to key workers and particularly the nation's health service, which was bearing the brunt of the crisis – on top of the pressures of government ineptitude and years of austerity. Always keen to capture the spirit of a moment, notorious street artist Banksy went one step further and painted Game Changer in recognition of the NHS key workers' tireless work.
The work eclipsed the previous world record made by Banksy's monumental 4-metre wide masterpiece Devolved Parliament,portraying a dystopian view of chimpanzees in the House of Commons, was perfectly suited to the grand spectacle of public auction. The work sold for five times its presale estimate of £1.5-£2m, prompting Banksy to announce on Instagram: "record price for a Banksy painting… shame I didn't still own it".
There was a 13-minute bidding battle for the work, in which as many as ten bidders were involved, at least five of them in the room. At one tense moment, the hammer was poised to fall at £6.4m whilst a bank of Sotheby's telephone bidders with hands over their mouths to obscure their discussion talked frantically to their clients, but an in-room bidder came back in at the very last moment forcing the battle onwards, before eventually giving way to the winning telephone bid of over £9.8m. It was a world-class auction climactic moment, for a world-class piece of art.
The gladiatorial forum of auction comes at a price to both buyer and seller. Standard consignment fees are 15% of the hammer, plus shipping, insurance, and marketing fees, meaning the seller of Devolved Parliament may have received approximately £6.8m post fees – however it's highly unlikely they would have settled for such a deal, as auction houses competitively 'bid' for works themselves, and can offer seller's as little as 0% seller's fees for extraordinary works, and occasionally will consign works at an 'enhanced hammer' – this means the seller can sell with them for free, and also receive a percentage of the Buyer's Premium usually reserved as the auction house's profit. There are many cases where an auction will happily take a loss to acquire and sell a great work. Sources tell us that the Post War and Contemporary department of both Christie's and Sotheby's regularly see great losses in the sale of their record-breaking masterworks, as the battle to acquire them sees them spend a fortune on marketing promises to the client and generous consignment deals. Sky-high enhanced hammer deals are used to win noteworthy masterworks from private collectors.
It's important to note that the buyer of Devolved Parliament will have paid 13.9% on top of his or her winning bid. Buyer's fees are non-negotiable and are on a sliding scale that equates to 25% of the hammer price, up to and including $400,000/£300,000; 20% of amounts in excess of $400,000//£300,000 up to and including $4,000,000/£3,000,000; and 13.9% of any amounts in excess of $4,000,000/£3,000,000. Selling at auction is an expensive business that pays dividends for the right piece.
If your work is valued above £4m, you should expect to pay anything from 0% to 15% on the hammer price, plus bespoke marketing fees. However, when you are looking to sell a masterpiece from an artist like Banksy, you can expect a very prompt call back from the top three. Christie's, Sotheby's and Phillips, will likely discuss an enhanced hammer deal for a work of this value in the current market.
Bear in mind that, if you'd rather sell something quietly, Sotheby's can facilitate a private sale. However, this is one of the few financial deals at this level that can take place without either party ever having to fully declare their profits, making it fraught with conspiracy and a notorious lack of transparency.
Who are the Runners Up?
Whilst Sotheby's have outdone Christie's and Phillips in the Banksy stakes in the last few years, particularly in the Evening Sale categories, they all compete with each other. So, whilst Sotheby's have an impressive list of recent successes with Banksy works, you should speak to all three; if only because you need to be armed with the comparison of both service and fees to negotiate your final commission. The sale calendar dictates when an auction house can offer your work, and there are elements within this that will work both in and out of your favour. For example, each major saleroom has their 'Contemporary Week' when all the major auction houses compete for the spotlight. If another consignor has just consigned a major contemporary work worth well in excess of yours, there is going to be less space to agree to your potential requests – such as having your work featured on the front cover of the catalogue or a dedicated PR campaign, which are often in the consignment agreement between seller and auction house. Equally, if another consignor has consigned a different Banksy piece at this level, you may be offered a very favourable offer from them to delay the sale of yours until the following season so as not to underplay the works.
Who to Speak to?
Sotheby's Alex Branczik, Head of Contemporary Art in Europe
[email protected]
+44 20 7293 5401
Depending on where you're based, Alex Branczik is a good bet. He is the Head of Contemporary Art in Europe, an ex-Equities Analyst at UBS Investment Bank, and responsible for selling Zeng Fanzhi's The Last Supper in 2013 for HK$180.4m (£14.7m). He also famously commented, "It appears we just got Banksy-ed" in October 2018 when the infamous Girl With A Balloon self-shredded as the hammer came down at £1.04m, becoming Love Is In The Bin.
Whilst Alex or the team of specialists will appraise your work, it will be Nick Mackay, the Business Director, who you'll discuss your commission deal with, not the specialist. It is a common misconception that specialists have the wherewithal to approve these deals at this level; always ask to speak to the decision-maker.
OVERALL – SELLING YOUR BANKSY MASTERPIECE AT SOTHEBYS
PROS: Security, gravitas, and drama
CONS: Inconvenience, price uncertainty, and complexity