"Copyright is for losers" – Why did Banksy lose his second trademark case?
Who is laughing now? Not Banksy, who recently lost the trademark over his iconic monkey artwork, Laugh Now. It is the second trademark that he has lost in less than 10 months.
The European Union Intellectual Property Office (EUIPO) declared that Banksy's trademark claims were "inconsistent with honest practices" because they were not created "in order to create or maintain a share of the market by commercialising goods, but only to circumvent the law".
The EUIPO pointed out that in his 2005 book Wall and Piece, Banksy wrote that "copyright is for losers". The artist had also encouraged the public to download high-resolution images of his art off his website – although Banksy intended this for "amusement and activism", not for profit.
Banksy's authentication body Pest Control first filed an EU trademark for the Laugh Now monkey in November 2018. It was successfully registered in June 2019. In November that year, however, the greeting card company Full Colour Black opposed the trademark, claiming it was "filed in bad faith" and "non-distinctive". Since then, Full Colour Black has been contesting Banksy's trademark rights to his name and images.
Banksy lost his first trademark battle in September 2020 over Love Is In The Air (Flower Thrower).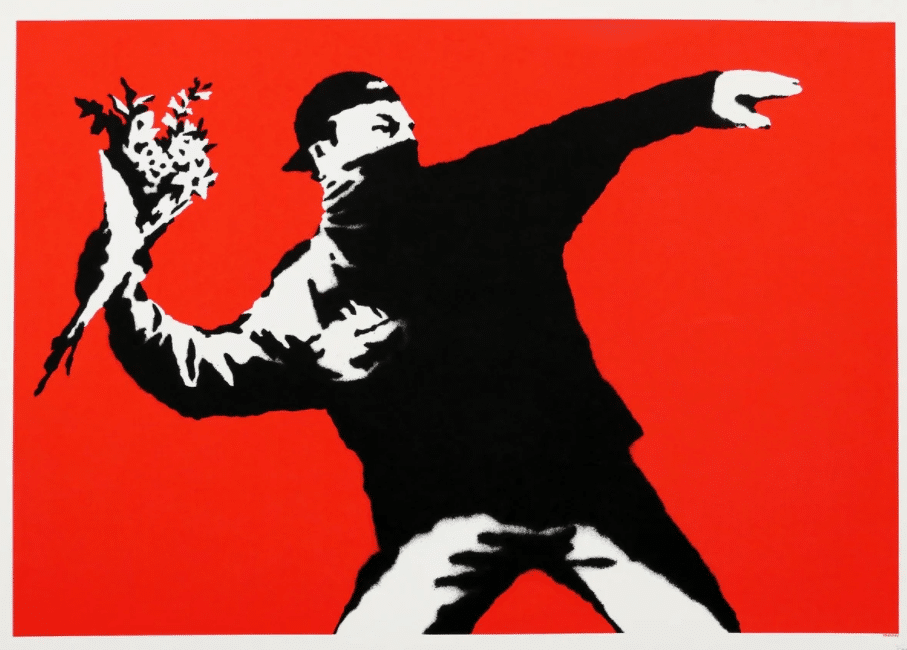 What is a trademark and how does it work?
Registered trademarks protect the name, slogan or logo of a brand or business. A trademark has to be unique and you have to use it regularly for it to be valid – but once it is protected, you can legally prevent others from using or copying your trademark.
Without a trademark, Banksy cannot stop big companies and galleries from using his name or artworks on their unofficial merchandising and products.
Who is Full Colour Black?
Full Colour Black is a UK-based greeting cards company specialising in street art, particularly works by Banksy. Many of their bestselling cards feature murals by Banksy, or reworked versions of iconic Banksys – such as Placard Rat with a sign that says "Go back to bed" instead of the original message, "Welcome to hell", or a Laugh Now monkey carrying a board that says "Binge drinking is fun", instead of "Laugh now but one day we'll be in charge".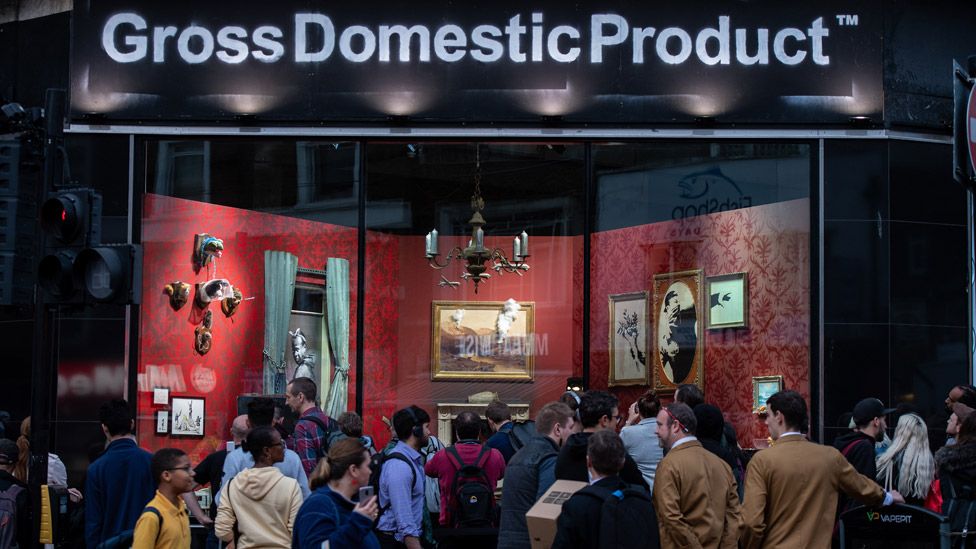 Was Banksy's Gross Domestic Product a real shop?
Banksy's merchandising pop-up shop Gross Domestic Product launched in Croydon, South London, in October 2019 – but never opened its doors to customers, only selling products online through its website.
In a statement on Instagram, Banksy revealed that "This shop has come about as a result of legal action. A greeting cards company are trying to seize legal custody of the name Banksy from the artist, who has been advised the best way to prevent this is to sell his own range of branded merchandise."
But the plan backfired. In May 2021, the EUIPO ruled that Banksy's trademark registrations "were not intended to be used" for his own merchandising and that he had "concocted sham efforts to try and mislead the EUIPO into believing that there was such an intent".
Is Banksy's street art copyrighted?
Even though Banksy's street art is created in public spaces and available for everyone to enjoy, he owns the copyright to these works: unlike registered trademarks, all artists automatically own the copyright to the work they've created, throughout their lifetime and up to 70 years after their death (under UK law). Copyright allows artists to claim royalties or have a say over how their work is used.
But if Banksy ever needed to enforce his copyright, he or Pest Control would have to reveal his real identity in order to prove he is the "unquestionable owner" of his works.